20/20 Hindsight high-speed industrial camera systems help some of the world's most critical companies troubleshoot and maintain their production lines at peak efficiency.
Let us open the door to efficiency and continuous monitoring of your production line. Our systems are available for rent, purchase, or rent-to-own. Our technicians are available for on-site setup and training.
Schedule FREE Video Conference Demo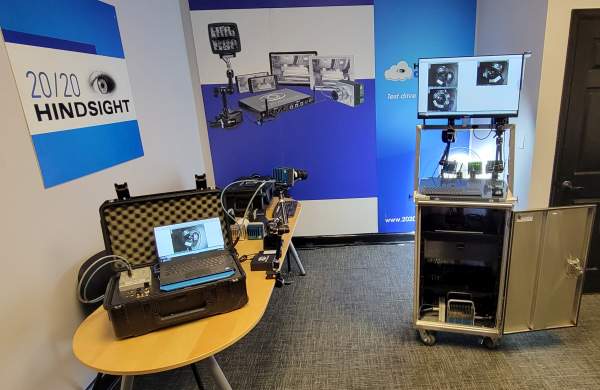 Schedule a FREE live video conference WebEx demo. View a demonstration of a live 20/20 Hindsight high-speed camera system and let us help determine your needs, answer your questions, and customize a solution.
Gather your whole team together for one presentation that takes 30 minutes or less.
Visit → Request Video Conference
Complete High-Speed Camera Solutions
From entry to enterprise, we have a high-speed industrial troubleshooting and monitoring camera system to fit your individual needs and budget. From wet to dry, from sterile to the most brutal, Hindsight cameras are built for every production environment. Review and save video clips while the system continues uninterrupted recording. Turn the camera on and video capture begins immediately and automatically. No buttons or menus to navigate.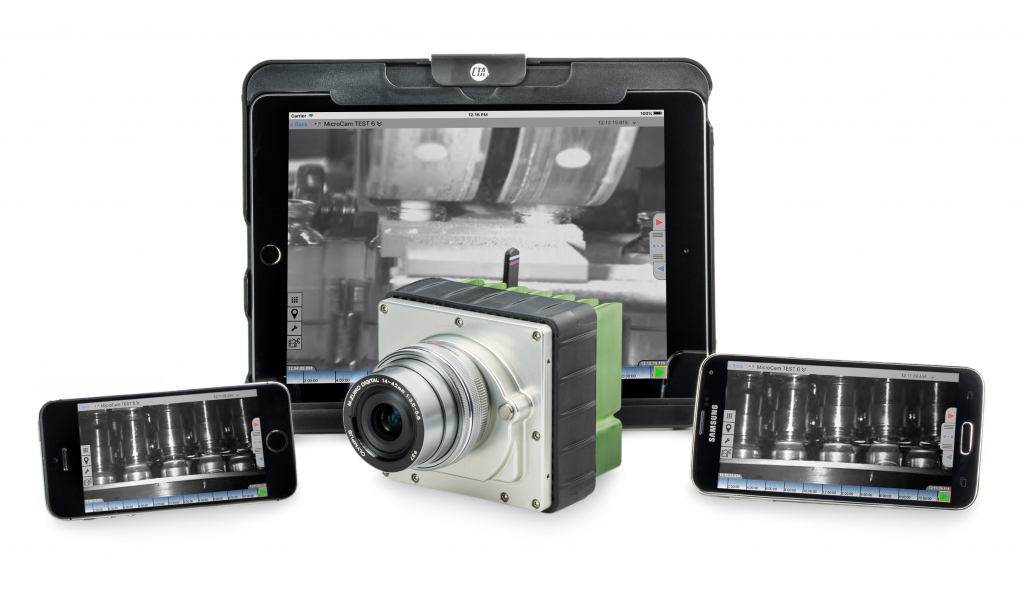 MicroCAM
Entry-Level
The balance between speed, recording time, and simplicity. Devices connect to MicroCAM's onboard WiFi for instant use. Connect and view multiple cameras at once using the MultiHub with multiple viewing clients. Can be packaged with an Apple iPad or used as the "bring your own device" solution.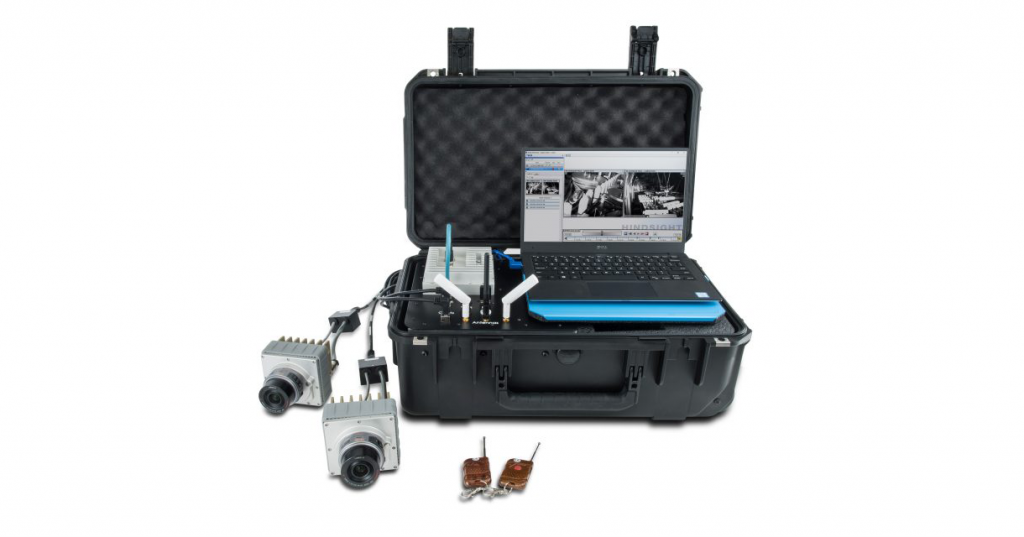 EyeCase
Express-Level
For ultimate portability with the highest frame rates and hours of high-speed recording time, the EyeCase makes troubleshooting simple to move across the building or across the country. On-board WiFi, in addition to the built-in Windows client, makes connecting more client devices a snap.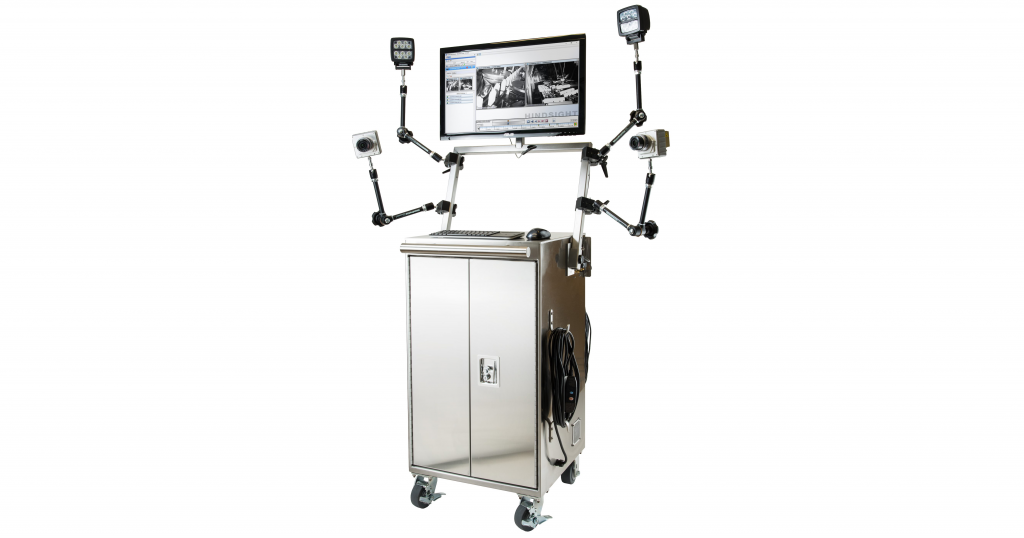 MultiCart
Enterprise-Level
A troubleshooting tool that will find easy space on your manufacturing floor. Built for rugged wear and tear based on a custom-designed stainless steel mobile cart. On-board WiFi from the MultiCart allows the connection of more devices beyond the built-in large-screen Windows client. Expandable up to six cameras depending on configuration.
More Than Just High-Speed Video
What sets 20/20 Hindsight cameras apart? Our customers appreciate the vast recording buffer, user-friendly software, and the ability to deploy the system in almost any environment with minimal setup or configuration needed.
| | 20/20 Hindsight Camera | | Sports / Action Camera |
| --- | --- | --- | --- |
| 125-1,800 Frames per Second (up to 10,000 fps at reduced resolution) | | | X |
| 2 – 128 hours of continuous recording | | | X |
| Power over Ethernet (PoE) | | | X |
| NEMA-5 IP65 or IP67 rated | | | X |
| PLC External Event Trigger Interface | | | X |
| Remote control, wide, fish eye, macro, & variety of Micro Four Thirds lenses available | | | X |
| Patented Buffer Technology. Review all video while system continuously records | | | X |
| Solid-State Hard Drive Storage (SSD) | | | X |
What Our Customers Say
0

…From the start, people at the plant were comfortable using 20/20 Hindsight. We will be highly recommending the system to all of our plants in North America.Ron Growe
1

Any company that wants to seriously compete needs a device like 20/20 Hindsight. I don't know how any good company can do without one.Steve Cornish
2

The Hindsight tool has allowed us to provide a more robust, reliable machine for our customers. There is hardly a day the camera is not put to use.Mike Verdon
3

…After researching several types of high speed cameras, I have yet to find a better system. Thanks for all the support and help in driving to 0 loss.Brian McFadden
4

…we cannot imagine running the lines efficiently without this tool. The support we have received is excellent and the warranty policy covered every detail we agreed by the time of the purchase.Yancuilt Pérez
5

Among the several third-party software and hardware we regularly make use of, the Hindsight 2020CAM viewer and the camera itself were of the most intuitive, user-friendly we've dealt with to date.Robert Bean
How Can We Solve Your Production Challenges?
Get in touch today. Based on your line speed and other variables, we can help calculate your needs in terms of frame rate, lighting, and other ways to customize our systems to your specific industry or application.
Phone: +1 703-663-6564
Email: Fill out the form below
Learn More
Explore our video gallery for sample applications or learn more about the industries that use 20/20 Hindsight cameras to troubleshoot their production line problems. Get familiar with our patented video buffer technology and the user-friendly software that runs it. Let us customize a solution for your needs.
Contact us to get started and request a proposal for your 20/20 Hindsight camera system.